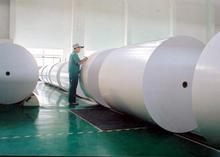 C2S ART PAPER
64-350GSM
Product main features:
(1) high gloss, high bulk, suitable for high end printing products.
(2) smooth and fine coating, good dot reproduction, beautiful colors.
(3) Good surface strength and high whiteness, result in high quality printing and more realistic images.

Printability range:
Applicable in high-end photobooks,cookbooks and magazines which requires better printing quality.Suitable for advertising materials such as book text,calendar,leaflet & poster.It is appicable for a large variety of offset and high speed web offset printing.